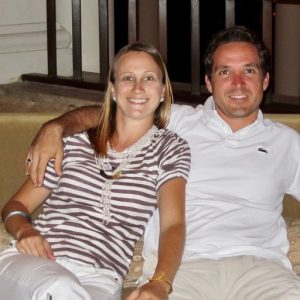 Hello! :-)
In 2010 we were married on the beach in Guanacaste, Costa Rica and we fell in love with the natural beauty, white sand beaches and wonderful people here. Time seems to slow down when you're in Guanacaste … very valuable nowadays!
One year later we quit our fast-paced jobs in Washington, DC and built and started renting out a modest house located in a tiny town called Paso Hondo, 15 miles in land from Tamarindo, we called it Pura Vida House. Several years later and with a lot of hard work and rental savings we were able to purchase a lot and build a luxury beach villa rental at Hacienda Pinilla Resort, Costa Rica's most exclusive 5-star beach community. After hosting thousands of wonderful guests (which are now our friends!) in a period of 8 years, since 2017 Pura Vida House is TripAdvisor's Top High-End Villa in the World.
In 2019 we sold our villa and business, Pura Vida House, to wonderful past guests and friends of ours that we know will continue to grow our dream and continue to make many guests happy in Costa Rica for years to come!
For the past 5 years while we ran our vacation rental business, we were also building luxury villas at Hacienda Pinilla Resort and selling them to past guests and friends, who wanted the tranquil lifestyle they enjoyed during their vacation with us, and some of them also making a great rental income on their investment as well!
We have now built and sold 24 projects in Hacienda Pinilla and other areas of Costa Rica and want to continue our real estate passion, offering quality luxury villas at a good price to anyone interested in living, vacationing and renting in Costa Rica.
When you buy from us, we'll give you expert advice on renting your new house (if you wish to do so) when you're not using it, that way it pays for itself!
We now live half the year in Columbus, Ohio (where Steph is from!) and half the year in Costa Rica (where Jorge is from!), spending quality time with both our families, traveling the world, and enjoying many of the outdoor activities that we love, year round.
If you're looking for homes for sale in Tamarindo and surrounding areas, especially Hacienda Pinilla real estate, we'd be honored to have you to purchase one of our beach villas!
Warmest regards,

Steph and Jorge