Villa For Sale in Hacienda Pinilla
If you're searching for a villa for sale in Hacienda Pinilla Costa Rica, here is Casa Palma, the most affordable villa for sale, with among the lowest HOA fees available. It is built by the owners of Pura Vida House, the #1 luxury rental villa in the world, so you can be sure of top quality construction and design
When searching for a villa for sale in Hacienda Pinilla Costa Rica, or especially buying any property overseas, it can be challenging. Trusted local advice and guidance is vital, given the tendency to take advantage of foreigners buying real estate in South and Central America.  Think highly inflated prices, stolen materials, unrealistic timelines, and more.
We have been building properties in Costa Rica for over 15 years, and have found that there are two sides of the coin that are important for us to keep in mind. The first is of course managing locally the builders, materials, supplies, permits, taxes, insurance, etc. – anything that can be tough to figure out for most foreigners, or even for Costa Ricans wanting to build themselves. The second is being able to translate the process, and help facilitate the move and managing a property abroad for expats or foreign visitors. We treat everyone we work with how we'd treat our family, which makes the real estate process a win for all sides involved.
What would we do if it was our family moving to a country we didn't know too much about?  How would we want to be treated and what information would be useful before one of our family members moves to Costa Rica?  Retirement in Costa Rica should be an enjoyable process, we'll make sure to do everything we can to make it that way for everyone!
We just finished Casa Palma, a 3 bedroom/3 bathroom with pool luxury villa for sale in Hacienda Pinilla Resort, Costa Rica's most exclusive beach resort.  This villa is perfect for a couple or family that wants to live in Costa Rica, either full-time or part-time, and can also generate great rental income.
If the Casa Palma is used as a vacation home, we can help show the buyer how to set up and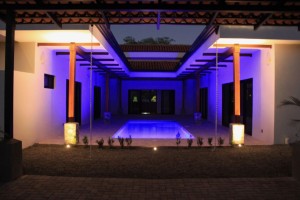 maximize rental income the week it's not being used. We can share our secrets of how we grew our rental property into the #1 luxury rental in the world as ranked by TripAdvisor.
We would be there at the beginning to help the new owners rent it successfully and consistently, providing tips on how to develop their online rental listing, how to take good photos, and make their Costa Rica rental listing the most attractive possible. And of course be around as your new neighbor, as this new villa for sale in Hacienda Pinilla is located just a few blocks away from our current award winning villa!
Nowadays many retirees are moving to Costa Rica, becoming expats in Costa Rica, and why not, Costa Rica offers warm weather year round, kind and happy people, good and affordable health insurance, and a laid back stress free way of life … the true "pura vida" state of mind!
Check Out More Photos of Casa Palma Villa Below!
For any questions about real estate in Costa Rica, or our new luxury beach resort villa for sale in Hacienda Pinilla Costa Rica, please contact us anytime, we're happy to talk!
Pura vida!!
Stephanie and Jorge Morera
www.ThePuraVidaHouse.com