Hacienda Pinilla Beach Club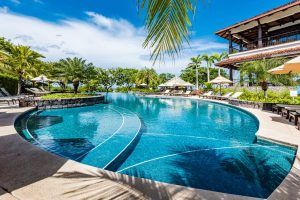 If you've never been to the Hacienda Pinilla Beach Club, you're missing out! It's an amazing place set along the shore of Avellanas Beach, and right in front of a famous surf break called Little Hawaii, a nearly private break for the lucky few.
If you don't like to surf, there are 2 miles of white sand beach to enjoy walking, swimming, shelling, and hunting for sea life in the tidal pools, and the best body surfing waves on the planet! Avellanas is truly the perfect beach!
Our luxury beach homes for sale in Hacienda Pinilla are steps away from the amazing Hacienda Pinilla Beach Club; check out what your dream life could be in Costa Rica living in one of our homes – CLICK HERE
The Hacienda Pinilla Beach Club has many amenities, such as a full service restaurant and tiki bar, gym and yoga studio, water sports desk, beach volleyball, soccer field in front of the ocean, conference rooms (in case you need to do a bit of business while in paradise!), and of course a gorgeous infinity pool (with little kids section!) perched right up to the white Avellanas Beach powdery sand.
This Beach Club is definitely a place where you can spend all day long, day after day, simply relaxing and enjoying life's pleasures :-) When we owned a vacation rental business, the majority of our guests spent many days there, and now that we develop luxury beach houses at Hacienda Pinilla, many of our past buyers continue to enjoy this magical spot on the Pacific Ocean of Guanacaste.
Check out our financing options, if you should need it, to own a luxury beach house in Costa Rica built by us today – CLICK HERE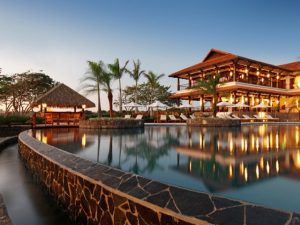 Also check out hundreds of our past buyer and guest reviews – CLICK HERE
We would be very honored to show you our luxury beach homes at Hacienda Pinilla … you never know … you might end up being our neighbor here … we'll see you for a sunset cocktail at the Beach Club!
Pura vida!! :-)
Stephanie and Jorge Morera

Homes For Sale In Tamarindo: www.homesforsaleintamarindo.com