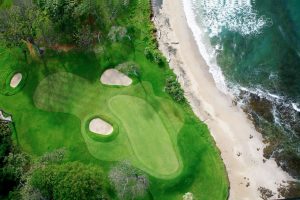 If you're looking for Hacienda Pinilla golf, you are in for a treat with this gorgeous golf course! We play it ourselves every other day and there are so many beautiful aspects about it.
Many people (like we did!) enjoy this course and area of Costa Rica so much, we even choose to make it our permanent vacation destination or home. Check out our luxury beach homes that are all located steps away from the Hacienda Pinilla Golf Club (they're affordable and come with our own flexible short or long term financing options) – CLICK HERE
Here is a snapshot of what it feels like playing at Hacienda Pinilla golf … imagine seeing scarlet macaws on hole # 3, seeing and listening to parakeets and parrots throughout your round, seeing howler monkeys, deer, anteaters and iguanas, many types of storks and even a crocodile, a truly magical experience.
Then comes the best part of playing golf at our backyard here at Hacienda Pinilla, holes # 14 and #15, both majestic ocean holes!
Hole #14 is a long and straight par 5 that you'll usually play with ocean wind in favor, so can be reached in 2 for long hitters, but the shot into the green is always a slippery one, as the wind takes the ball quite a bit further than you think, so it's easy to fly it past the green. Our suggestion is when aiming at this green, aim to bounce your ball 30-40 yards short of the green, so it lands right in the middle of the green eventually.
Hole #15 is one of the most beautiful holes you'll ever play, a short par 3 with 2 greenside bunkers. If you hit it just a bit long on this hole, you will be in the real beach, or in the Pacific Ocean, which washes right up to the green on high tide.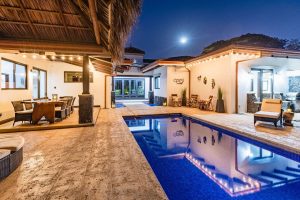 Please contact us if you wish to play golf here at Hacienda Pinilla, or wish to make this paradise on Earth your part or full time home … you never know … you might end up being our Costa Rica beach neighbor! :-)
Pura vida from Hacienda Pinilla!! :-)
Stephanie and Jorge Morera
Hacienda Pinilla Real Estate – www.homesforsaleintamarindo.com/tamarindo-real-estate-for-sale