Hacienda Pinilla Golf Course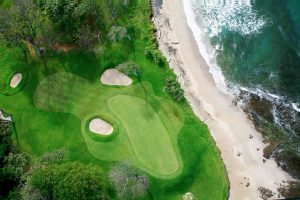 Are you looking into playing the beautiful Hacienda Pinilla Golf Course? Or have you already played it, loved it, and looking to playing again? If so, we don't blame you, we play it ourselves almost every other day :-)
If you've played at the Hacienda Pinilla Golf Course before, you've probably fallen in love with this tranquil resort, that's full of beaches, nature, biodiversity and plenty of activities and luxuries. Would you want to make this paradise on Earth your part or full time home? Our luxury beach villas are steps away from the golf course and all other world-class amenities; see what your dream life in Costa Rica could be – CLICK HERE
Here are our 5 favorite benefits that you'll enjoy when playing at the Hacienda Pinilla Golf Course:
Holes # 14 and #15, simply majestic ocean holes, unbelievable!
The incredible biodiversity all around you … you'll see and hear howler monkeys, iguanas, anteaters, scarlet macaws, parrots, parakeets, a crocodile that lives in the course's main lake, and many more colorful birds, a truly magical and unique experience!
Play golf in the afternoon around 5pm and you'll see an incredible sunset from either hole 14 or 15 (hole 15 is our favorite!!!).
This Costa Rica golf course is never crowded, there's not even a starter; when you play each of the 18 holes, due to the extended course layout, you can only see and experience one hole at a time, which creates a sense of vastness and freedom that we've never experienced on any other golf course around the world (although a few in Ireland do come close!!).
This is a 100% environmentally friendly, Audubon certified golf course. The main initiative is that potable water is never used to water the course, only rain-water that accumulates in the course's main lake during rainy season, and is used to irrigate during Costa Rica's dry season.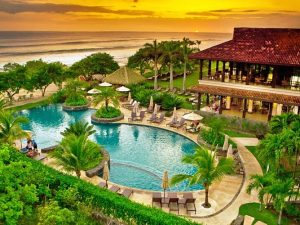 Come play the Pinilla golf course and while you're at it, check out our luxury beach villas at Hacienda Pinilla! :-)
Pura vida!!
Stephanie and Jorge Morera
Houses For Sale In Tamarindo: www.homesforsaleintamarindo.com/guanacaste-builders