Tamarindo Houses For Sale
Looking for Tamarindo houses for sale? You've probably been on a vacation to Tamarindo or Guanacaste, loved it, and now want to make this paradise your part or full time home? Or a successful vacation rental as well, right? We did the same years ago, and have not looked back ever since!
Guanacaste, Costa Rica is an awesome place to live, we've lived here now from November to April (Costa Rica's summer!) for the past 8 years. And have been developers for almost the same amount of years, so if you need to view Tamarindo houses for sale, check ours out, CLICK HERE
There are so many reasons why we love Guanacaste, the main ones are:
Tranquility: time seems to slow down when you're here (very valuable nowadays in this fast-paced digital world!). You'll always be on beach time here, it's common for us to not even turn on the news for days, or have much screen time at all, instead doing many of the fun outdoor activities we love, like snorkeling, tennis, yoga, and golf!
People are very friendly: Guanacastecos (and Costa Ricans in general) are incredibly friendly. When you meet someone down here, they are immediately your best friend, full of smiles and ready to hang out with you to go to a local Soda to eat healthy food, a rodeo, or festival :-)
Easy access: Liberia International Airport (LIR) is here, so very easy access from all US cities (most US cities have a daily direct flight to LIR!), Canada and Europe. From the US, if you take an early flight out of your home, even if you have a layover, you'll still be here for lunch, and with no time difference adjustment!
The beautiful beaches! Oh my, you'll have 50 or so white-sand beaches to enjoy on a daily basis up and down the coast, simply spectacular. We both love snorkeling, so living at Hacienda Pinilla Resort, located only 6 miles away from downtown Tamarindo, is amazing, as it has a great snorkeling spot at Mansita Beach steps away from our villa.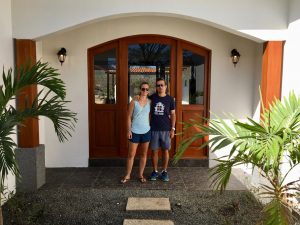 So when looking for Tamarindo houses for sale, please give us a chance to build you the home of your dreams, or you can buy one of our existing luxury beach villas that are affordable and we even offer our own financing for you, CLICK HERE to learn more about us.
Muchos saludos, pura vida!! :-)
Stephanie and Jorge Morera
Costa Rica Real Estate: www.HomesForSaleInTamarindo.com