Playa Conchal Real Estate For Sale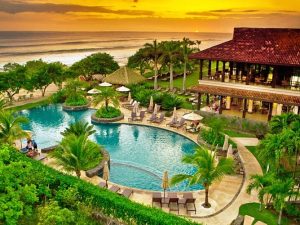 Looking for Playa Conchal real estate for sale? You've probably vacationed in Costa Rica before, love it, and now looking to move here part or full time, to enjoy the "pura vida" beach life, right? We totally get it, we did the same thing 9 years ago and love our tranquil beach life down here, with daily sunsets, Happy Hours and nature filled :-)
When we were looking years ago for Playa Conchal real estate for sale (we looked here first as we got married at this beach!), and looked at properties in many other locations in Guanacaste, we decided that Hacienda Pinilla Resort (located only 8 miles from Playa Conchal) was our ideal spot. The main reason we picked Hacienda Pinilla is because of sunsets, we're crazy about them, and we noticed that at Conchal Beach you can't see the sun go down all the way, due to it's geographic positioning. That was a big deal for us!
We are now real estate developers at Hacienda Pinilla – check us out here: www.HomesForSaleInTamarindo.com – and could not be happier to have picked this resort as our home in Costa Rica. Our villa, as well as every luxury beach villa that we build and sell, is steps away from world-class amenities in this very private and exclusive gated community.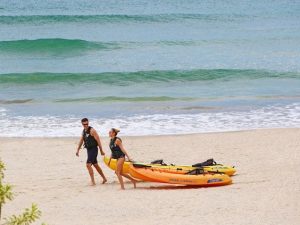 Some of the amenities that you will have at your fingertips by purchasing one of our villas are: 3 different private white sand beaches, Beach Club, 12 restaurants and bars, Hacienda Pinilla golf course, lighted tennis and pickleball courts, equestrian center, 30 miles of mountain biking, hiking and running trails, JW Marriott Guanacaste (yes, we have access to this gorgeous resort located inside Hacienda Pinilla!), mini market, chapel, Rythmia Life Advancement, medical clinic, and much more. Check out everything you'll have: www.HomesForSaleInTamarindo.com, click on "Resort" at the top!
Please contact us, we'd love to talk to you about our affordable luxury beach villas (with in-house financing if needed!). You never know, you might end up being our neighbor at Hacienda Pinilla, we would be honored if that was the case!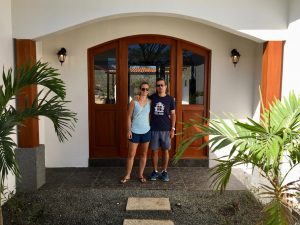 Pura vida from Costa Rica!! :-)
Stephanie and Jorge Morera
Playa Conchal real estate for sale: www.HomesForSaleInTamarindo.com